The history of the Virtual Falcons
The very first beginning happend when Biggs and MemphisBelle met on one of MemphisBelle's Lock on Hosts in the HyperLobby. Biggs was looking for some players to fly around and having fun long time before MemphisBelle and him meets first time. Memphis already got several experiences in Mission editing and hosting so hims hosts were always quite good visited. Cause of the meeting of Biggs and Memphis the SiN Coloboration came up again and following several new gamers as well. One of them was Toni. He was one of the first Pilots who flew permanatly with Memphis and Biggs. The SiN Gamers Collaboration actually offered 4 Games to meet and play. Armed Assault (ArmA), BF2 and BF2142 and even Lock on. Because of the fact that these three guys mostly were flying than shooting they met some new guys as well. Many of them left again once they flew a while but one of them always got back to fly with us. His name is Swiss 777. He was an already known Pilot within the Lock on Community with a quite high skill level. Until this point there wasn't any idea existing to found an Aerobatic Display Team. The main Idea still was to meet online and play Games.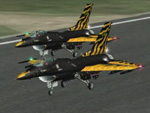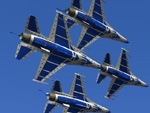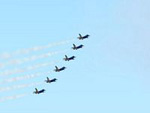 The first contact with the subject Air show
Around three month later, a new guy registered to the SiN forum. His name was Sonik. He met us in one of MemphisBelle's Server and found a way to contact us. The first times he flew around with us only. Then the Forum suddenly got a new post where Sonik told us about a Idea to found an Aerobatic Display Team. We all liked that idea, because we sometimes tried to fly in Formation anyway. He already had ideas and something like a Program and and and..... So we started to fly in Formation instead of shooting down. Biggs started to train the Formation flying with the A10, while Swiss was already an exilent formation Pilot. So we came together with whole around different skills. We had ideas but no Plan. We also doesn't know which Aircraft should used by us. So at first we decided to use the F-15 Eagle.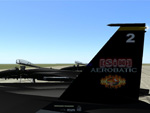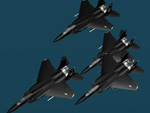 So our very first Name was "SiN Aerobatic Display Team". One day Sonik told me again that he had contact to a guy called Antonio. He updated our first Skin and added some red stripes on it. So we got our first skin with Tailnumbers from 1 to 6. While this times our Team got lots of fluctations within the formation. But one of those Pilots was a young guy from The United States as well. His name was Ace. He was a young and funny guy and Sonik and Ace sticked together quite soon. They flew together and tried many crazy things. In the same times Sonik started to edit his recorded tracks to create our first Videos. The first ones were pretty bad cause he had a very bad performed PC. But he learned a lot and soon he good a better performed PC... A new period of time began....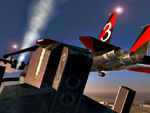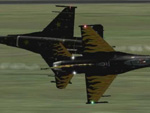 The final Team and all around
We flew a lot with our new designed Team. But we actually wasn't well satisfied with our Aircraft and the skins. So one day Sonik told us about a new contact with a guy called Wine 69. He is an already known skinner in the Lockon files Forum. He created lots of Skins for many Teams. Until this point we still wasn't sure which Aircraft to use, so we tried the F-16 for fun. The first tries were pretty terrible, because the "modified" AI F-16 in the Game is very fast and actually not quite useful to be used as Display Aircraft. But we liked that Skin which was made by Wine. What we needed was an Aircraft which had the flight condition of an F-15 and an outer Skin of the F-16... so we said:...OK...fine...we need a mod!!!. And it doesnt took a long time and Wine created our very first and very own mod. And so it also doesn't took a long time anymore that we should find a Name for our Team. We had an Aircraft. The F-16 Fighting Falcon...so the Name for our Team was born.
The Virtual Falcons
Right from this Point we turned from a Amateur Team with a senseless Name to a semiprofessional Team with own Skin, own Ideas and a unbreakable heart and the will to join VFAT 2008 to rock the World of Virtual Aishows.....Until this point Wine also become a member of the Staff Team of the Virtual Falcons. It tooks some versions of the mod until we got our current Skin and we cant think about to change our Name or even our Skin one day....For this it became too much personal to all of us.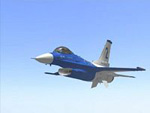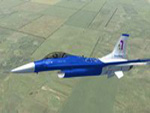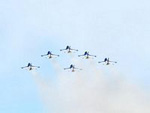 The pilots and their positions
The Display Team is existing now out of 7 Pilots. Sonik was the leading position. Biggs got the right Wing Position and a young Pilot called Mobius was the left Wing. Swiss took the slot Position. Viper got the Solo lead Position and Ace was it's oposing Pilot. But one day Mobius left again because his Timeschedule was to close for meeting three time a week. So we watched out for a new left wing. One day Sonik told us that he got in contact with Frazer from the White Ravens Display Team. We sometimes flew togehter and we learned a lot from him. Later another new guy called Maverick joined the Team. At the same time a new guy called Diko told me in Teamspeak that he was looking for a new Team, so we invited him to get tested for the left Wing Position. A short period of time later Biggs left his right Wing Position. He was still a member of the Virtual Falcons Display Team but not anymore as right wing. Maverick left again a short time later becuase his Team cames up again and he was needed there. Now we had 2 positions to be set again. So we changed the positions another time. Diko turned to the Lead Position while sonik changed to the left wing. Swiss changed to the right wing while Toni tried to do his job as slot. He has flown all events. Starting from VFAT 2008, has decided on LLTM 2009 and VFAT 2009, until he itself, causes by temporal reasons, in addition from the delta formation to change and to fly as Solo / reserve pilot. Already since 2008 another very good pilot named Chester changes in the active team. He had first the position of the Opposing Solo and since January, 2009 he flies till this day on the Left Wing. He is decisively involved in the organizational interests of the team and flies also the role of the Flightleaders if Diko is prevented. Then shortly after Chester followed Jack who is convincing with his hot Swabian temperament already since 2009 down to the present day as our Lead Solo. In June, 2010 a new pilot is comming into the team, with Roadie the team has a new Opposing Solo again. Then after a little while came Iceman to the team and took over the position in the slot. In 2012 a new pilot named Larabad has applied for the position of the Opposing Solo, because Roadie had left our team.
LINKS

Virtual Aerobatic Teams:



Community List [by Frazer]:



Virtual Aerobatics Events:



Virtual Fight Squadrons:



Websites from the Community: